Meet Kyle.

Kyle Campbell joined CUE about six months ago as the "Experience Guru" (yes, he chose his title). Before CUE, Kyle worked at the New Orleans Pelicans for two years and the New Orleans Saints as a Production Manager and Senior Director of Game Experience for seven years. Today, his focus is growing CUE's music and live event business. He has been a great team addition, creatively pushing our internal team and customers to the next level.

When I asked Kyle what he has enjoyed most about his time at CUE, he shared, "I really like how collaborative we are as a company. No task is too big or too small for anyone. Everyone is willing to step up and step in to help get the job done for the greater good of CUE."

Kyle resides in New Orleans with his wife, Anne Summer, and adorable dog, Riggins. He is a super fan of all things sports and is still a huge Saints fan and loves to go to the games and watch from the bleachers. Kyle is also a big Pelicans fan; lots of hometown pride in this guy!

In the last few months, Kyle's adventurous spirit has taken him from the colorful celebrations of Mardi Gras (check out the new custom Nike's he bought just for the occasion) in New Orleans to the bustling streets of London, where he met with some of the most prominent international players in the live event and music industry. From there to the vibrant music scenes of Nashville to meet with a few big names (more to come soon), and after a couple of days of adding a few more sticky notes to his desk was off to Houston!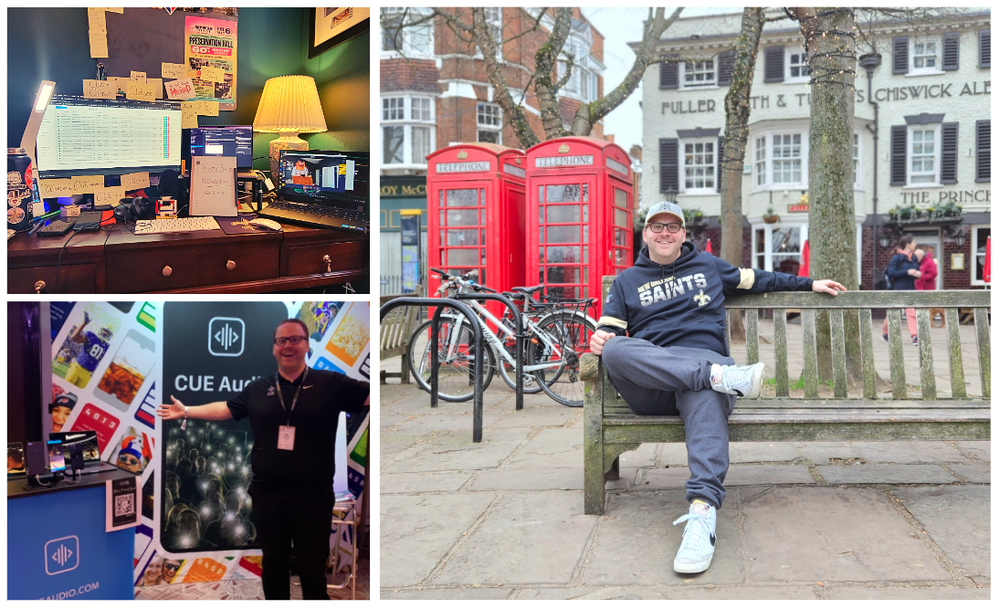 Despite his constant movement, Kyle is a planner and perfectionist at heart. He doesn't do anything halfway and ensures that no matter the task, big or small. His passion for life is contagious, leaving an impression on everyone he meets.

Kyle not only does he bring great energy but dedication to the work. Those that know Kyle know that he won't stand behind something he doesn't believe in, so having him as a representative of our company has gone a long way. Because of his experience and reputation in the industry, he has already secured several new high-profile customers, such as the New York Yankees, NFL Combine, Atlanta United, Cincinnati Bengals, the entire XLF League, and Pittsburgh Steelers, to CUE's growing client list.

---
"I love that I still get to work with my former peers/colleagues across sports and music. Leaving the team side was tough, but knowing that I can continue to grow the relationships I have cultivated over my life through my work with CUE is rewarding!"
---

His comedic, positive attitude makes him someone you want to know! To learn more, contact us today or check out his profile here. Or better yet, get a sneak peek of him doing his thing in Denver last fall!