The University of Kentucky has been known for having a great basketball program, but this season they took their game day production to the next level debuting a new section-based light show. Years ago, they decided to take advantage of the hardware (cell phones) that fans bring to the game with them rather than waste and cost of purchasing additional hardware to create an immersive, high-energy experience. This year they went all in and decided to push the technology further with full light synchronization throughout the venue.

Our team worked with the university to create a custom light show highlighting different arena sections throughout the pregame show. We also worked with Coca-Cola Consolidated's marketing team to incorporate their content and messaging in promotional elements and on-screen content on every phone during the activation to add value to their partnership with the University. The result was incredible and created a new and enhanced game day experience for fans. It was also a great way to bring some new energy as the team prepared to take the court. During their most significant event, they saw incredible traffic to their app, with almost 20K total views from over 5K users, so a very successful activation to drive traffic to their app and create additional brand exposure for Coca-Cola.

It is no surprise the Kentucky Wildcats have been able to maintain their status as one of the top basketball programs in the country. Their commitment to the game for both fans and players is evident both on and off the court.
Like Kentucky, we have also enjoyed working with the University of Tennessee for the last several years. They, as well, have consistently found ways to push the boundaries of what is possible with their cell phone light shows. This year, they took things a step further, signing on as our first NCAA partner to use FanSee! 
FanSee! allows fans to live stream videos of their cell phone camera directly to the centerhung by scanning a QR code. Fans of all ages love to see themselves on the big screen, and FanSee! has made it easier for the production team at Tennessee to do just that. Not only were they able to showcase more fans on the screens during games, but they were also able to showcase some fantastic in-the-moment reactions that otherwise wouldn't have been possible.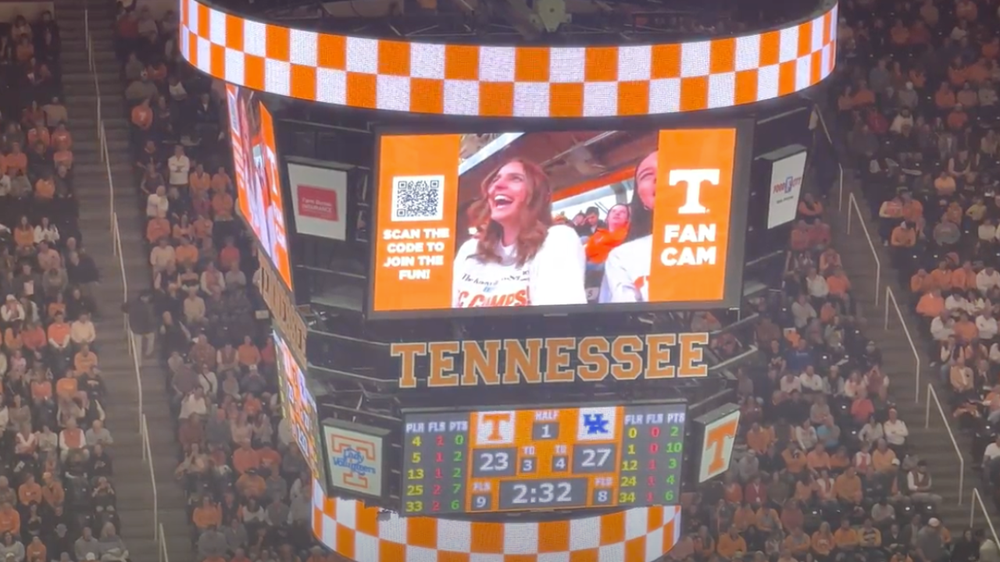 ---
"We have absolutely loved working with the Vols and Cats! They've been two of CUE's most innovative partners; they both have built great standards and practices that have influenced our products and in turn empowered all CUE clients to have incredible, razzle-dazzle engagement with their fans, sponsors, and community!"

Chris Saccoccia - Head of Global Events, CUE
---
Later in the season, when Montana State faced its state rival, the University of Montana, in a critical doubleheader, they decided they wanted to do everything they could to create some extra home-court advantage. Having heard about our products and seeing them in other venues nationwide, they reached out to learn more. Despite the tight deadline (just under a week), we worked with their marketing team to get them up and running in just a few days. This proves the ease of use of the product but also the exceptional training and support from our team.

We knew the biggest challenge for Montana State to see the results they wanted was going to be promoting the activation and getting fans on board to download the app and participate in the short timeline. They rose to the challenge and did a great job of creating hype days before the game on social media and followed up with more prompts and reminders through PA announcements and video board graphics during both pregames.
---
"When Montana State added CUE to the Brawl of the Wild versus Montana, their department was all in to make it the best show in the state. In less than a week, they created an incredible activation that weaved light show messaging through all aspects of game promotions. Their collaborative approach and commitment to a great fan experience was rewarded with a double-header sweep led by an electric crowd."

Jamie. Severns - Accounts & Activations, CUE
---
The end result was truly electric, the crowd was on their feet, and the energy throughout the arena was a force to be reckoned with. Thanks to great behind-the-scenes work leading up to the game and the participation of the fans on game day, Montana State was able to come away with two big wins against their in-state rivals!
---
"During our biggest games of the year, CUE provided a unique, fan-friendly light show that increased the energy and atmosphere in the arena on game day. Working with their team was a pleasure; they helped us implement light shows and trivia for both our men's and women's games in less than a week. Our fans loved the experience, and we look forward to using their products at more games in the future."

Leon M. Costello - Director of Athletics, Montana State University
---
We are proud to have worked with many other excellent NCAA partners this year. We are passionate about creating products that get fans involved in the game and provide undeniable energy to the players and coaches. All of our products (CUE Live, FanSee!, Fanatic Filters, Trivia Mania, and Pledge Per) are designed to be easy to use and help teams of all sizes create a winning atmosphere and a production that they can be proud of.
Best of luck to all of our partners (27 men's and 27 women's teams) as they take the court over the next few weeks!