Kansas City Chiefs - Checking All the Boxes
The Kansas City Chiefs maximized their game presentation in 2019 by adding CUE Audio's Light show to their two primetime games: Sunday, October 6th vs. the Indianapolis Colts and Sunday, October 27th vs. the Green Bay Packers. As with many partners, the eventual Super Bowl Champions had several boxes to check and some infrastructure realities that needed to be addressed.
Objective 1: Increase engagement in the Chiefs App.
First 24 Hours after social media announcement:
62,557 Card Impressions
7,053 Clicks
10/6/19 Game vs. Colts:
187,118 Card Impressions
24,515 Unique Clicks
Accounted for 22% of all app clicks
10/27/19 Game vs. Packers:
150,465 Card Impressions
13,910 Unique Clicks
Accounted for 15% of all app clicks
Push Notification sent to 10,396 devices

2,787 opens
26% open rate was highest of the season
Objective 2: Celebrate the Chiefs 60th Anniversary Season.
The Chiefs were able to easily feature their 60th-anniversary logo prominently on-screen during the show, in addition to other promotional elements.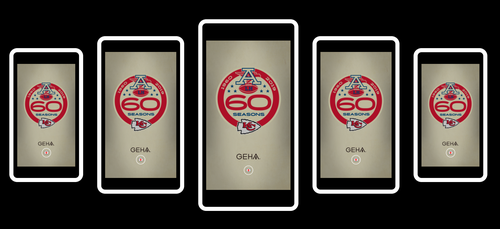 Objective 3: Create a spectacle in an outdoor stadium with non-LED lighting.
As with many stadiums, Arrowhead Stadium did not have LED lighting in 2019, but that was not a problem. Because of the great job the Chiefs did to promote participation and educate fans, their show dazzled sell-out crowds of 76,416 and many fans enjoyed the NBC Sunday Night Football broadcast from home!
Objective 4: Assure that CUE's data over audio technology could span the entire stadium of approximately 200 meters.
Again, many CUE Audio partners across the country have a single bank of speakers in their stadium. Because some fans would be as far as 250 yards from the speakers, CUE Audio was able to alter the strength of the tones to assure phones in the entire seating bowl received the trigger. As a result, all 76,416 fans in Arrowhead Stadium were able to participate, despite it not being the ideal setting of 360° speakers.
Objective 5: Drive sponsorship Revenue.
The Super Champion Kansas City Chiefs leveraged the CUE Audio activation with their insurance partner, GEHA. GEHA received branding throughout the light show on all cell phone screens, as well as promotional branding through social, digital, and in-stadium signage.