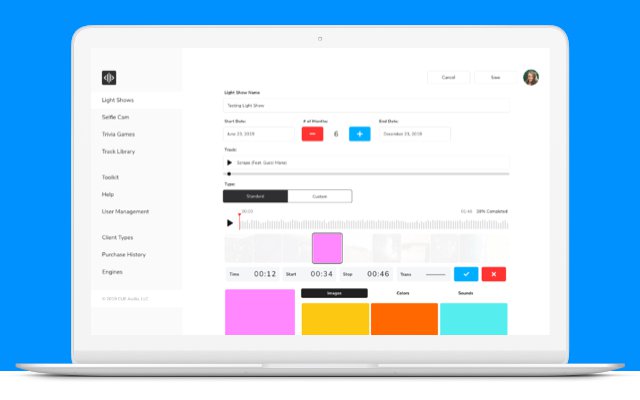 Portal
13
questions in this category
Can't find what you're looking for...
If you're a new customer, Contact Us. If you're a current customer, access the portal and enter your provided credentials. If you are having issues, contact your CUE rep or contact CUE Support.
Yes! Google Chrome. Firefox & Safari are also compatible but we strongly recommend Google Chrome.
Click Create Light Show > Light Show Type: Custom Track and upload your mp3 below. Enter your Coupon Code (if applicable) and click Create.
Yes! Once you create your engagement, the portal will open to a payment page, where most major credit cards are accepted.
Yes! Simply click Create or Update and your engagement will show up on your dashboard. To continue editing your engagement, click Edit on the right side of your engagement's dashboard.
Once you Create or Update your engagement, download the .wav file with your engagement's triggers using the hyperlink listed on your dashboard. It will take 5-10 minutes for the engagement to cache through the system.
Play the downloaded .wav file with your app's SDK open and enjoy!
No Problem! You'll be able to watch your light show in the edit screen in single or full screen mode, or view the preview for Selfie Cam & Trivia.
We recommend using all png files for the portal and all features. All custom filters for selfie cam should be 1080W x 1920H. Any full-screen image for the light show should be 1080W x 1920H also, but any image will auto center into the light show display screen.
No, make as many as you like! You will need to create at least three filter designs.
After your user takes their selfie and adds your filter, they'll have an opportunity to share it via social media, text, e-mail, etc. The Share text allows you to pre-fill their text field when they post, allowing you to promote a hashtag, mention or specific copy.
No, ask as many as you like! Depending on your event scripting and the time available, you can determine the right amount of questions for your event.
Once the trivia game is over and users have been notified of their ranking, they'll be invited to enter contact information for prize awarding and verification. Once the trivia game is over, the portal will send an email of all participants to the e-mail address(es) you enter in that field.
No problem, you can view all past participants and winners of your trivia game by selecting View Game Results in the edit screen of your trivia game.